image2talks Weather Channel
It is hard to get feedback from users. Smiley.37signals.com inspired us to open a communication channel to image2talks users. We call it the Weather Channel.
Users can rate their experience within the app by clicking a weather icon and leave a 255 characters comment. Comments are stored anonymously.
On this page we show all feedback we received.
The overall Weather Report
43%
33%
19%
5%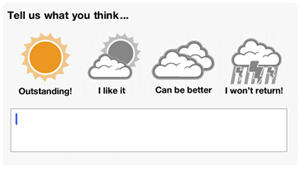 Inspired by smiley.37signals.com
Icons from flukeout.com/free-weather-icons